Birth certificate & other civil status certificates
Identity management starts with the first personal document in your life - your birth certificate. CETIS provides birth certificates and other civil status certificates as well as comprehensive turnkey solutions for document issuance and identity management for managing the status (birth, marriage, citizenship, divorce, death, etc.) of all the citizens of a nation. The birth certificate should be well protected from counterfeiting and modification. If it is forged, any other personal and travel document (such as passport or identity card) can be forged too.



Comprehensive eGovernment solutions
Modernisation of public administration starts with establishment or modernisation of the civil register, enabling secure, reliable and easy-to-use identity management. The civil register plays an important role in the security of a country's institutions. CETIS can help you establish comprehensive turnkey solutions for identity management and document issuance, including data enrolment, data management, AFIS, personalisation solutions, public key infrastructure (PKI), document issuance, and central registers for a complete eGovernment solution.
Security elements
A variety of security elements meeting the latest technology and international standards combined with high quality materials guarantee the production of highly secure and durable documents. Our experienced professionals can advise you which security elements will best suit your needs.
Level 1: Visible security features; no special devices are needed to recognize them
Level 2: Invisible security features; simple devices are needed to recognize them
Level 3: High-level invisible security features; visible only with special devices in laboratories
Graphic design
Due to our many years of experience in security document design, as part of our complete solution and due to comprehensive support, we can also provide graphic design for security documents.



Our experts prepare design solutions in close collaboration with the client, using the relevant certificates in the field of the application of security software design, knowledge of international standards, good practices and trends. They pay special attention to the identity of the country or the city and to the values of the residents.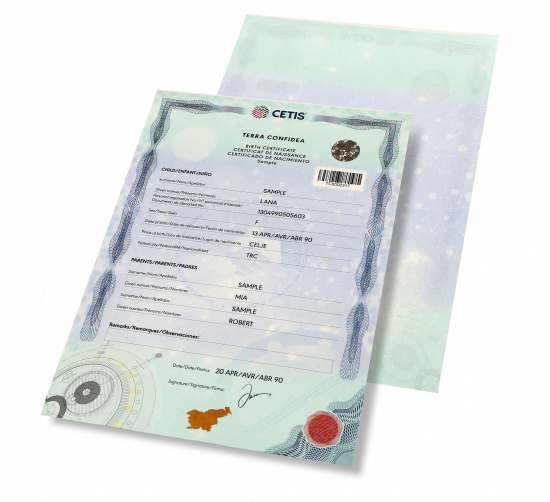 How can we help you with your challenges?
Trust our experienced professionals to handle them.
Explore all products of Security Printing Solutions
Explore all areas of Security Printing Solutions
Are you looking for quality solutions and a reliable partner?