Strategic orientation
We follow the strategy of partnerships with clients – which distinguishes us from the competition – with which we create added value, and which guides all operations of the company.
Growth will be achieved by targeting foreign markets, upgrading products with services, and developing innovative, comprehensive and modular solutions which contribute to higher added value. We will create new jobs and increase added value per employee.
The product range of CETIS is divided into two strategic business units: Security printing solutions and Commercial printing solutions: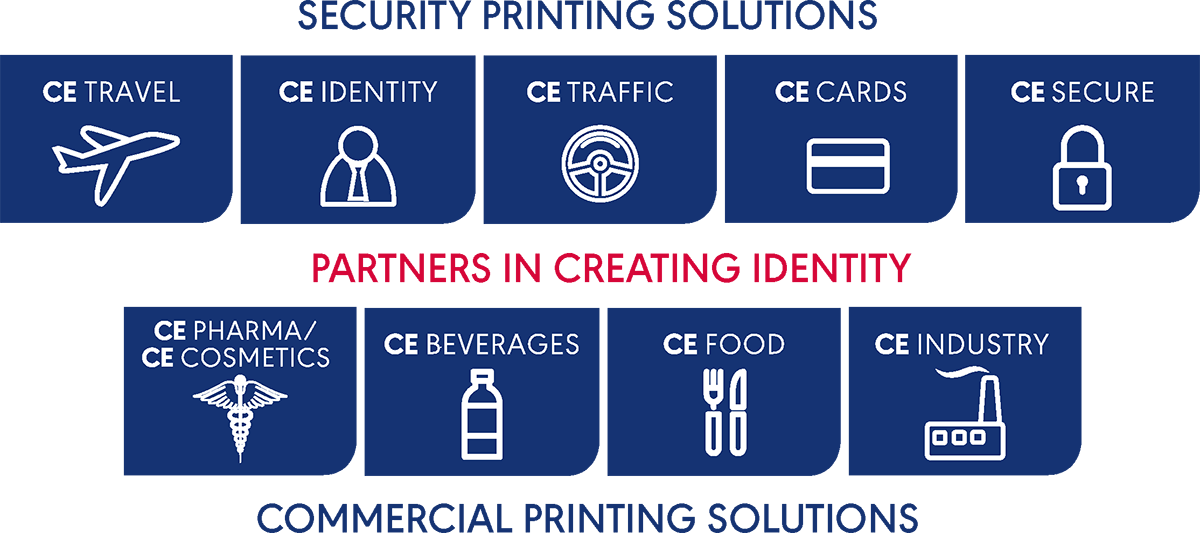 Security printing solutions
In the field of Security printing solutions, we will particularly focus over the next few years on the growth of comprehensive solutions (upgrade of products with services) and on the reduction or specialisation of product groups while maintaining the volume of sales.
The most important products are: passport, visa, identity card, driving licence and vehicle permit, including complementary services. We will strive to improve the current ratio between products and services in the strategic period to the benefit of services. Maintaining the leading position in Slovenia, and the market share in the Balkans, we will focus, along with the EU, particularly on global markets (Africa, Central America and the Middle East).
Strategic business areas of Security printing solutions:
Commercial printing solutions
In the field of Commercial printing solutions, we will particularly focus over the next few years on solutions for the food and drink industry, pharmaceutical and cosmetic industry.
We wish to offer our clients the most suitable and effective solutions, which will communicate their product stories to consumers, provide them with high-quality products, and facilitate the achievement of leading market shares. Together with our clients, we create the identity of products. Therefore, it is important to cooperate closely with them in all phases of development.
The most important products are: labels (self-adhesive, paper), sleeves, wraparound labels and various solutions for brand protection.
Our target markets are in Western and Central Europe (particularly Austria, Germany and France), where we are competitive with innovative solutions with higher added value, a strong developmental and advisory role, reliability, and uncompromising quality.
Our speciality and advantage is that we can offer to clients of commercial printing also the solutions from the field of security printing, such as brand protection.
Strategic business areas of Commercial printing solutions:
Customer intimacy strategy
At CETIS we keep our promises and focus on customers and their needs—with which we must be familiar, act with the long-term in mind and work to gain our customers' trust and loyalty. Our comprehensive and flexible approach, commitment to partnership and a professional attitude, and wide range of products and services help our customers to meet their challenges with a personal approach.
At CETIS we wish to become our customers' (favourite) strategic development partner.
Commitments to our customers
PARTNERSHIP. It is based on two-way communication and joint efforts to attain the clients' objectives. CETIS is positioned as a strategic development partner and provider that understands well the challenges its clients face, and meets them with comprehensive solutions.

Reliability/trust. Trust is built with high-quality products and services provided in time and at the right price. This is proven by the standards we have achieved, by recognition and satisfied customers.
Flexibility. We provide comprehensive integration into the customer's system and provide custom-made solutions. We are adaptable in the search for optimum business and financial solutions.
Responsiveness. Responsiveness is reflected in our short delivery and offer deadlines, and friendliness of employees. We are professional, and handle customers' challenges together with them.

HIGH QUALITY. CETIS ensures a high quality of products and solutions together with a level of integrity, accuracy and professionalism which exceeds the expectations of our customers.
COMPREHENSIVE SOLUTIONS. We provide all solutions in one place, which facilitates customers' work and saves their time and money. If needed, we also integrate solutions into existing systems.