Election ballots
Our fundamental promises to customers concerning reliability, trust, flexibility, and responsiveness are crucial for the fast, reliable, and secure production of election ballots for presidential, parliamentary, European, local, mayoral, referendum, and other elections.
Due to extensive experience with elections in many countries, we also manage complex and large projects.
We adapt to your requests regarding paper, security elements and graphic design. We also provide secure logistics.
Graphic design of election ballots
Due to our many years of experience in security print design as part of our complete solution and due to perfect support, we can also provide graphic design for election ballots. It is important that design for election ballots is simple and clear to all voters. 

Our experts prepare design solutions in close collaboration with the client, using the relevant certificates in the field of the application of security software design, knowledge of international standards, good practices and trends. We pay special attention to the identity of the country and to the values of the residents.
A wide selection of materials and security elements
Materials:
Watermarked paper
Security paper
And others
Options:
In blocks or as individual sheets
Different dimensions
Visual protection
Tactile protection
Hidden protection (i.e. Micro text, deliberate errors, CSHI, etc.)
And others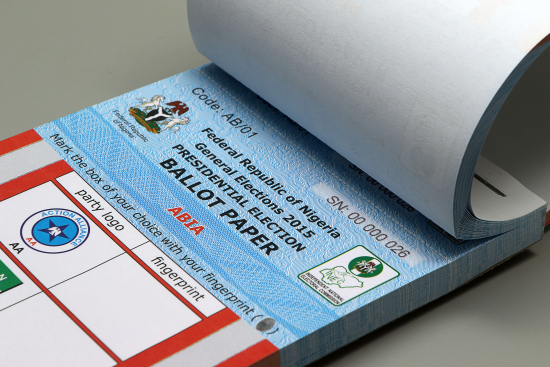 How can we help you with your challenges?
Trust our experienced professionals to handle them.
Explore all products of Security Printing Solutions
Explore all areas of Security Printing Solutions
Are you looking for quality solutions and a reliable partner?