Identity cards
CETIS provides complete and innovative ID card solutions; from in-house manufacturing to hardware and software integration, including personalisation and complimentary printing materials for mailings (such as envelops and leaflets). 
Everyone's got to have an ID. More on complete and innovative ID CARD solutions click HERE.
Types of identity cards
We manufacture identity cards made of various materials, using different printing techniques and personalisation possibilities with optional chip integration:
Polycarbonate card: laser personalisation
PET card: laser and dye sublimation/thermal personalisation
PVC card: laser and dye sublimation/thermal personalisation
Composite cards: laser and dye sublimation/thermal personalisation
Effective identity management
Effective identity management includes accompanying solutions such as data enrolment, secure data transfer and data management to ensure efficient and flexible process during the entire card issuing process.
CETIS provides comprehensive turnkey solutions for biometric documents for total government support including:
Graphic design for identity cards
Due to our many years of experience in security document design, as part of our complete solution and due to comprehensive support, we can also provide graphic design for identity cards.




Our experts prepare design solutions in close collaboration with the client, using the relevant certificates in the field of the application of security software design, knowledge of international standards, good practices and trends. They pay special attention to the identity of the country or the city and to the values of the residents.
Security elements
A variety of over 80 different security elements meeting the latest technology and international standards combined with high quality materials guarantee the production of highly secure and durable documents. Our experienced professionals can advise you which security elements will best suit your needs.
Level 1: Visible security features; no special devices are needed to recognize them
Level 2: Invisible security features; simple devices are needed to recognize them
Level 3: High-level invisible security features; visible only with special devices in laboratories
Prelam (prelaminated sheet) for cards
CETIS provides complete end-to-end solutions for ID cards, driving licences and other security documents. Due to our flexible modular approach we can also provide any part of the chain, including components (e.g. prelam for cards) which ensure an even greater level of security and personal identity protection.
Advantages of our full support
Document graphic design.
Consultancy offered to authorities in the field of document issuance, modernisation of public administration and implementation of the complete eGovernment solutions.
Integration of solutions with existing systems.
Support and training of local staff provided by our experts.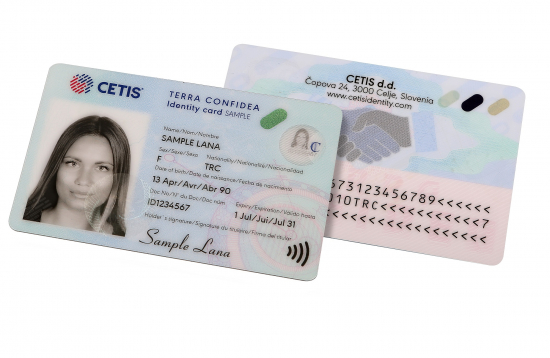 How can we help you with your challenges?
Trust our experienced professionals to handle them.
Explore all products of Security Printing Solutions
Explore all areas of Security Printing Solutions
Are you looking for quality solutions and a reliable partner?