Bags and pouches

High-quality pre-made pouches of diverse sizes, formats, materials and functions assure maintenance of your product's freshness, fragrance and flavour.
They have many advantages and are the right choice because:
Protection of the product from potentially harmful environmental factors (light,  oxygen, moisture, odor, mineral oils (MOSH/MOAH)) that could affect the safety, quality and taste of the product.
Maintainance of freshness.
Preservation of smell, taste, aroma, texture, minerals and vitamins.
Product shelf life extension.
Convenience: -  Easy opening (tear notch) -  Convenient to handle (zip, various shapes) -  Light (low weight) -  Suitable for resealing (zip)
Effective visual exposure of the product on the sales shelf.
CETIS offers a variety of options:
Materials
Different combinations of materials provide for optimal storage of various products such as coffee, snacks, cheese, honey, confectionery, frozen food, pharmaceuticals, etc., maintain their freshness, aroma and flavour and help the product obtain better exposure on shop shelves.

All materials are suitable for contact with foodstuffs and, if required, are also compliant with pharmacopoeia.
Types of bags and pouches:
Doy-pack pouches
Side sealed pouches with flap
Three-sided sealed pouches
Two-sided sealed pouches
Options
Choose high-quality pre-produced bags and pouches of various sizes, formats, materials and functions. You may print up to ten colours. Play with matt or gloss effects so that your products really stand out on the shelves.:
Matt or high-gloss finish
Paper touch varnish
Round corners
Tear notch
Euro hole (sombrero)
Easy opening
De-gassing valve
Zip closure
Bottom angle seal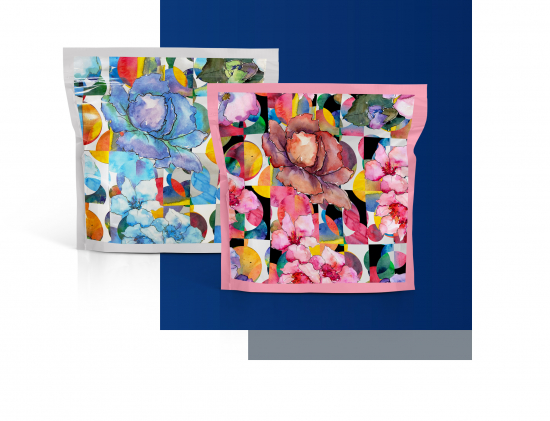 How can we help you with your challenges?
Trust our experienced professionals to handle them.
Explore all products of Commercial Printing Solutions
Are you looking for quality solutions and a reliable partner?