Prelaminated sheet for cards
CETIS provides complete end-to-end solutions for ID cards, driving licences and other security documents. Due to our flexible modular approach we can provide production of security documents as well as complete solutions for identity management and document issuance or supply any part of the chain, including components (e.g. prelaminated sheet for cards) which ensure an even greater level of security and personal identity protection.
Upgrade your ID cards, driving licences or other security cards to smart, machine-readable contactless e-cards capable of storing valuable data such as personal information securely and reliably.
CETIS prelaminated sheet for cards carrying an electronic chip and antenna enable communication with the reader without physical contact. For card producers, they ensure a highly secure, durable and flexible solution which can be quickly and smoothly integrated in their manufacturing process. page) which ensure an even greater level of security and personal identity protection.
Options

Dimension: 500 x 300 mm (or other options, depending on customer's requirements)
Material: Polycarbonate
Reputable chip suppliers based on customer requirements
Various antenna designs
 
Durability
Long-term resistance to mechanical stresses.
Security
Protected against forgery and counterfeiting.
 
Data storage
Secure storage of personal data and biometrics, using chips from reputable producers.
 
Compatibility
Optimised to ensure compatibility with most standard polycarbonate cards.
 
Production process
Easy integration in the manufacturing process, increasing productivity of the producer.
 
Composition
All layers are constructed from quality materials which are compatible with all types of polycarbonate cards, providing perfect protection for the embedded electronic chip and antenna.
 
Finish
Smooth and flat finish.
 
Verification
Compliant with ICAO and ISO standards.
CONSULT WITH OUR EXPERTS
Consult with our experts, choose among various alternatives, and find the right solution for your specific needs.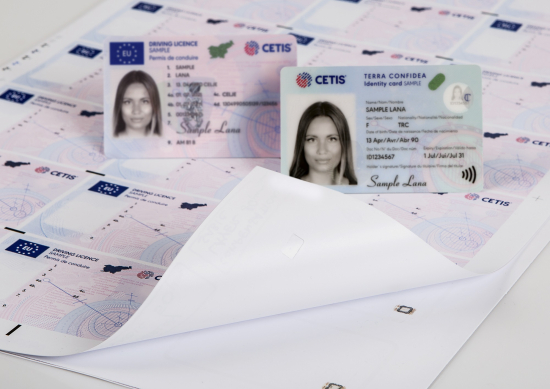 How can we help you with your challenges?
Trust our experienced professionals to handle them.
Explore all products of Security Printing Solutions
Explore all areas of Security Printing Solutions
Are you looking for quality solutions and a reliable partner?